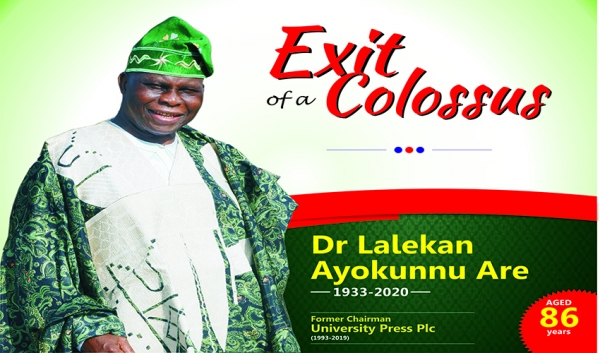 Dr Lekan Are: The Exit of a Colossus
The Board, Management and Staff of University Press Plc regret to announce the passage of our immediate past Chairman, Board of Directors, Dr Lalekan Ayokunnu Are, popularly known as Lekan Are. Dr Lekan Are passed on at 12.30 a.m. on Saturday 18th January 2020 at the University College Hospital (UCH) Ibadan. He was aged 86.
Dr Lekan Are served as Chairman, Board of Directors of University Press Plc from 1993 to 2019, a period of 26 years, during which he contributed immensely to the growth of the company as foremost publishers to the nation. A hard worker himself, he was a staunch believer in the development of the human person through hard work, diligence, excellence and integrity. As he would say, "If you always do more than is expected, not only will you rise up above the crowd, you will help others to rise up with you."
Dr Are always did more than was expected of him. He was the proverbial all-rounder. Austere and astute, he left his imprints of excellence everywhere he found himself. As a preeminent agronomist, he was a former Chief Executive Officer, Ogun-Oshun River Basin Development Authority, Professor of Agronomy, University of Sierra Leone, Deputy Executive Secretary, West Africa Development Association and Deputy Director, Cocoa Research Institute of Nigeria. As a successful businessman, his establishment of Kakanfo Inn and Conference Centre (where he was Chairman for many years) has contributed to the changing face of the hospitality industry in Oyo State. As an author and a player in the publishing industry, he wrote several books in areas as diverse as agriculture, vocational studies, philosophy, management and literature. He was a sportsman and the consummate patriot.
Up till his death, Dr Lekan Are was a director on the board of Punch Nigeria Limited.
Funeral arrangements will be announced by his family. However, a condolence register has been opened at our corporate Head Office, Three Crowns Building, Magazine Road, Jericho, Ibadan for our friends, customers, authors and colleagues who may want to commiserate with us and his family and pay tribute to this exemplary humanist.