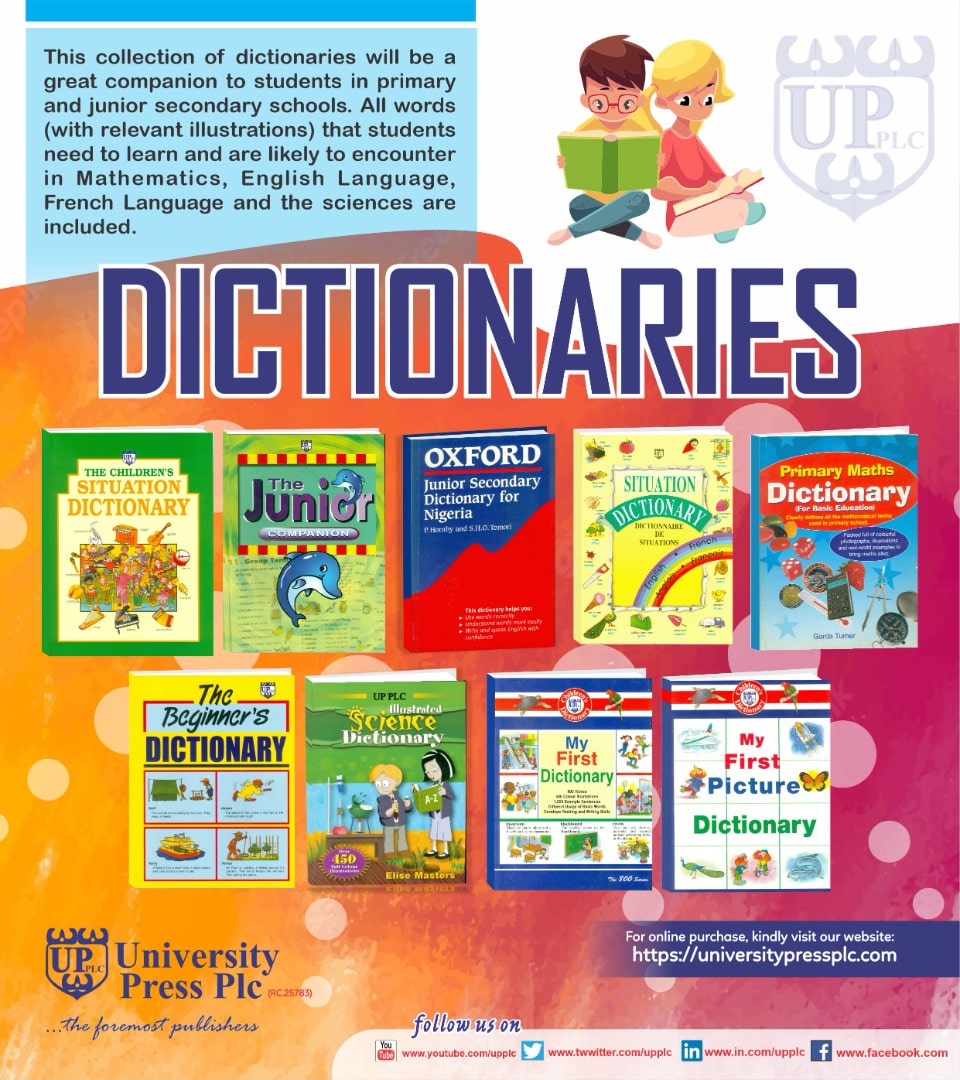 BEST COLLECTION OF DICTIONARIES FOR CHILDREN – MATHS, ENGLISH, FRENCH AND MANY MORE.
Dictionaries help children to learn new words and develop their research and analytical skills. It gives them the opportunity to explore a subject and develop an understanding of its significance in historical and modern contexts.
However, without specifically written definitions and concepts suited for their reading level, using a dictionary will be quite frustrating and discouraging. This is why it is essential to encourage your child to use appropriate dictionaries on their own. This will enable them to become more enthusiastic and independent learners.
If you are in search of dictionaries for children, either for home, library or school use, University Press Plc has some of the best collection of dictionaries for children you can ever think of.
Putting into consideration the fact that children process visuals faster than words, the UPPLC dictionaries are children-friendly and contain colourful and realistic illustrations, definitions and concepts to help them learn faster and easier by visualizing what each definition or concept actually means.
We understand that there are thousands of dictionaries and reference materials for children out there and it sometimes gets confusing when trying to decide on which ones to purchase. But only a few of these dictionaries are specifically structured for children's use.
So in this article, we have taken time to carefully select the best collection of children dictionaries published by UPPLC which contain special features that are age-appropriate and particularly suited to get children interested in the world around them.
Find below the list of collections available for purchase.
The Junior Companion
This dictionary is an engaging and lively book for students learning the rudiments of English Language. It is an invaluable guide and reference book which is beautifully illustrated with a variety of pictures and diagrams.
The dictionary contains many examples of sentence construction and applications of simple English grammar rules which emphasizes on active learning.
Click here https://universitypressplc.com/product/the-junior-companion/ to get a copy.
The Children's Situation Dictionary
The Children's Situation Dictionary aims to help children identify objects and learn words which they need for everyday usage. Various situations a child is likely to come across are illustrated in colourful pictures to make learning easy and interesting.
The pictures can also serve as a starting point for further discussion to enrich the child's general knowledge.
Click here https://universitypressplc.com/product/the-children-situation/ to get a copy.
My First Dictionary
My First Dictionary is an English Language dictionary for children from age four to six who are just beginning to learn English. It contains more than 800 basic words which are carefully selected for children. It has more than 500 amusing colour illustrations to stimulate learning and aid easy understanding.
The 1,500 sentence examples are simple and easy to follow using 'kids language' and situations familiar to children.
To get a copy, click here https://universitypressplc.com/product/my-first-dictionary/
My First Picture Dictionary
This dictionary is for children of four to five years who are just beginning to read and learn. It contains over 500 entry words, colour illustrations and sentence examples as well as amusing colour illustrations to stimulate learning and help achieve easy understanding.
Two full pages of colour pictures are provided to teach children about numbers, colours and shapes.
Click here https://universitypressplc.com/product/my-first-picture/ to buy.
The Situation Dictionary
The Situation Dictionary is recommended for children from five to nine years of age. All the words they need to learn and are likely to meet in English and French Languages are included. The main feature of this dictionary is the situational approach which aims to make learning more interesting for children. Full colour illustrations of situations a child is likely to come across are provided.
Parents and teachers can use the questions given for each situation to stimulate further discussions and enrich the children's knowledge. An index is also provided for easy reference and additional vocabulary work.
Grab your copy here https://universitypressplc.com/product/the-situation-dictionary/
The Beginner's Dictionary
The Beginner's Dictionary is specially compiled for students between the ages of six to eight. It lists about 1,500 words. Simple and concise sentences are provided to illustrate the various meanings and to guide the student on how to use the words in the correct context and manner.
About 300 charming illustrations further support the sentence examples and help the student to better understand the meanings. This dictionary will prove to be a helpful companion to every primary school student in the bid to be proficient in the English language.
Click here https://universitypressplc.com/product/the-beginners-dictionary/ to buy
The Primary Maths Dictionary for Basic Education
This dictionary is an essential guide to the mathematical language and concepts used in primary schools. Written with the young reader in mind, the Primary Maths Dictionary for Basic Education provides clear and simple definitions.
Filled with photos and diagrams, this colourful reference book will bring the language of mathematics to life for primary school students. Also included are many charts including symbols, abbreviations, shapes, prime numbers, Roman numerals as well as fraction and measurement conversion tables. It is indeed a must-have for every child.
Click to Buy here https://universitypressplc.com/product/primary-maths/
UPPLC Illustrated Science Dictionary
This colourful, user friendly book provides invaluable support for Science students.
It provides a solid grounding in scientific terms and ideas.
Dictionary style layoutmakes it easy to locate important terms.
Large, colourful diagrams and illustrations provide a helpful visual aid to understanding key terms and concepts.
Up-to-date terminology ensures that the book is relevant to today's student.
Cross referencing throughout makes it swift and simple to find exactly what you are looking for.
Click to Buy here https://universitypressplc.com/product/upplc-illustrated/
Oxford Junior Secondary Dictionary for Nigeria
This clear informative dictionary has been specially written for pupils in Nigerian schools. It provides up-to-date coverage of the vocabulary you need to know for life in the new millennium.
Some special features of this dictionary include:
A wide range of headwords chosen for their usefulness to young Nigerians;
Thousands of examples that show how words are used;
Common English idioms explained in simple language;
Pronunciation is given for every headword to help students say new words correctly;
Illustrations to help them understand important words; and
Information on irregular plurals and verb forms to help them write correctly.
All these and more are contained in this dictionary.
Click here https://universitypressplc.com/product/oxford-junior/ to get a copy.
For more information on other titles and reference materials published by University Press Plc, visit www.universitypressplc.com/shop
By Janice Johnson Pemida