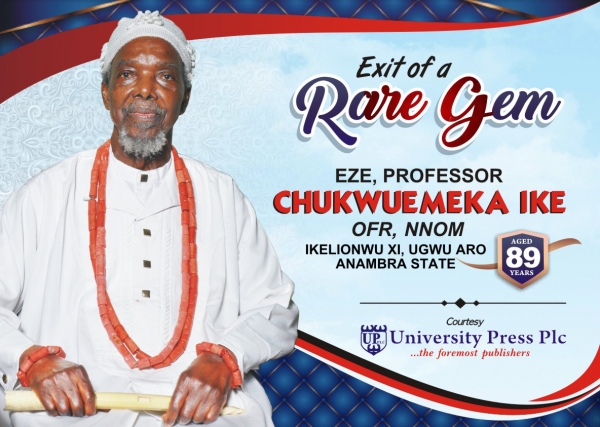 EXIT OF A RARE GEM
The Board, Management and Staff of University Press Plc regret to announce the transition of our highly esteemed and valued author, and one of our past non- executive directors, His Majesty Professor Vincent Chukwuemeka Ike OFR, NNOM, Eze Ikelionwu XI, Orumba North Local Government Area of Anambra State, which sad event took place on Thursday, 9th January 2020. He was aged 89. He served on the Board of University Press Plc between 1978 and 2002. While on the board, he made numerous contributions to the growth and development of our great company. He also consistently attended our annual authors' forum since inception in 2009 up till 2019.
We are the proud publishers of his seven novels, namely EXPO '77, The Chicken Chasers, Sunset at Dawn, The Potter's Wheel, The Naked Gods, The Bottled Leopard and its Igbo version, Anu Ebu Nwa, and Chukwuemeka Ike: Fifty Years as a Trailblazing Novelist.
Funeral arrangements will be announced by his family. May Eze Professor Ike's soul rest in perfect peace. A condolence register is already opened at our Head Office, Three Crowns Building, Jericho, Ibadan for our friends, customers, authors and colleagues who may want to commiserate with us and his family at this time.