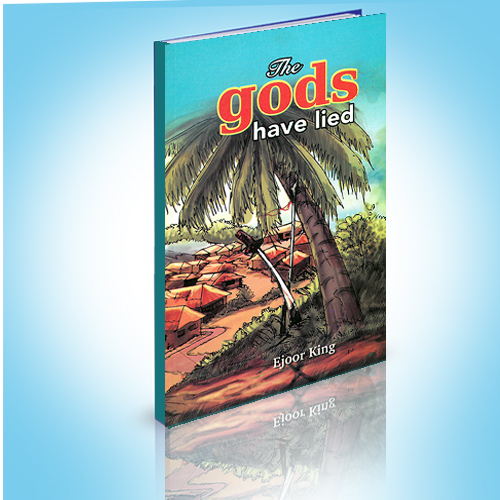 The gods have lied: A Review
'What are my eyes seeing?' Ichie Ugwu shouted with a rumpled face that expressed the repulsion he felt from within.
'We have only …' Amanda started but lost the exact words with which to explain herself and she looked frightened.
Kamka and Amam, seeing what was happening quickly dressed up and jumped out of the bush, trying in vain to suppress their fright …
Ejoor King's The gods have lied is an exceptionally pulsating story of Amanda from Umumba village, who invites her friends, Kamka and Amam from Amaowere, a neighbouring village, to Umumba for the masquerade festival. Prior to the invitation, these two neighbouring villages have had a feud festering between them for ages.
Trouble arises, when Kamka and Amam are apprehended for emptying their bowels in the arena of Uguoffor spirit. The girls, not fully aware of the atrocity they have committed, are whisked away to receive their punishment from the village priest.
Akrika, the village priest pronounces the judgement of the gods; Kamka and Amam are to become the wives of the priest.
This plight leads to the assembling of elders from both villages, who view the predicament of the girls as a mechanism to restoring peace to both lands. While this meeting is ongoing, a heated argument ensues between Echezona from Amaowere and Anyanle from Umumba, with each threatening the other's life.
Soon after, tragedy strikes as the disappearance of Echezona becomes the news of the day; his wife and brother search tirelessly for him, but Echezona's dead body is found with parts of his body missing.
There is uproar as the name of Anyanle fills every villager's mouth but Anyanle denies having any connection in the death of Echezona.
To complicate matters even more, words are sent to Umamba from Amaowere, with the option of letting the people of Amaowere investigate the death of their kinsman or both villages settling for war. If Anyanle didn't murder Echezona, who did?
As dramatic and strange events begin to unfold, will these events improve or further tear down the relationship between the two villages? Find out, in this thrilling and delightful story, how the truth unravels itself.
Although this book is the author's first novel, he has complete control of his story and style.
Click here or here to grab a copy now.
By Janice Johnson Pemida