UNIVERSITY PRESS PLC PRESENTS STAFF WITH LONG SERVICE AWARDS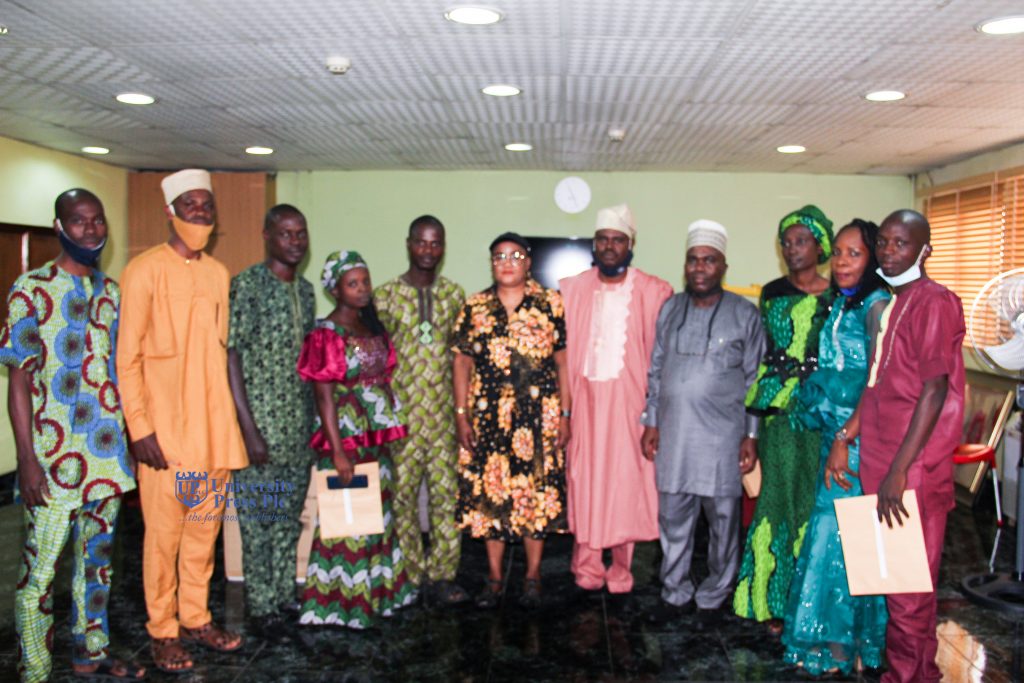 University Press Plc, Nigeria's foremost publishers, has once again presented some of its loyal staff with several gifts and awards.
The Long Service Award Ceremony, which is held annually and has now become a culture, is aimed at recognising and celebrating loyal and industrious employees and encouraging others to emulate them.
This year's event, which held today, November 5, 2021 in the Company's head office, the Three Crown's Building, Jericho, Ibadan, saw 28 members of staff being awarded for dedicating 10 to 35 years of service. Among the awardees are the Managing Director of the Company, Mr Samuel Kolawole and the Head (Human Resource Division), Mr Olajide Timothy Jegede, who have both been in the services of the Company for 20 and 25 years, respectively.
Highlights of the event include the presentation of gifts and awards to the awardees by the Company's Executive Director (Publishing), Mrs Folakemi Bademosi, on behalf of the Management. Speaking at the event, she congratulated the awardees for being alive to receive their awards as not everyone is lucky to be alive to partake in such an occasion. She went ahead to thank them for their tenacity, commitment and loyalty to the Company.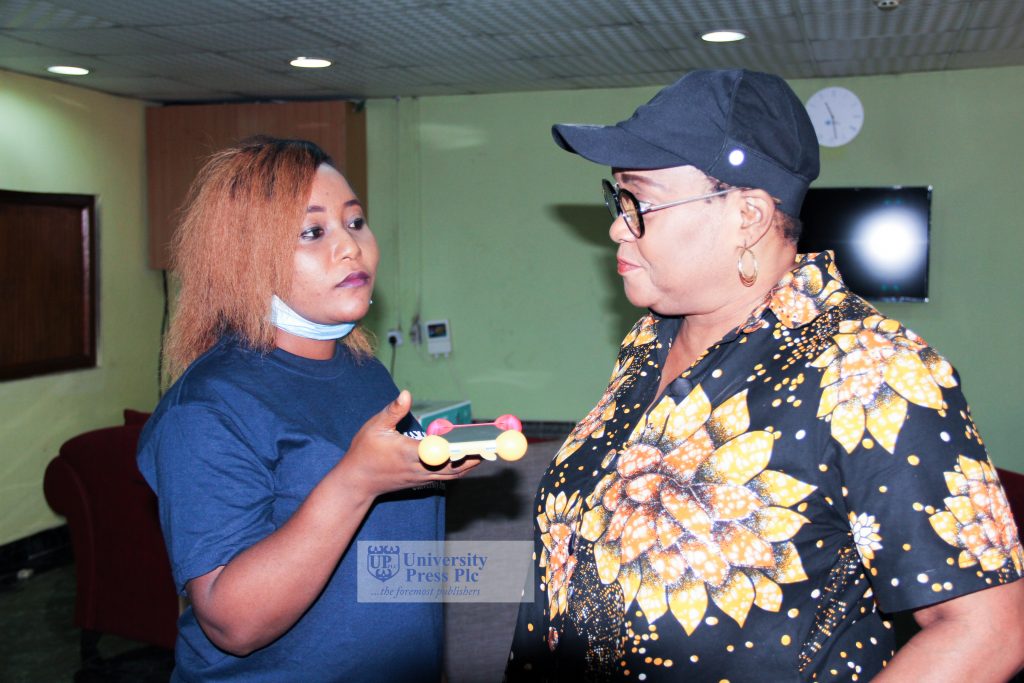 She also enjoined the staff to continue to do more for the Company and not relent in their efforts towards increasing the company's productivity. According to her, the board, management and staff appreciate their efforts and will continue to support them.
Twenty-eight members of staff received gifts and awards at the ceremony. For the 10 years category, 14 members of staff were awarded; for the 15 years category, 10 staff were awarded; for the 20 years category, 2 staff were awarded; and for the 25 and 35 years categories, 1 member of staff was awarded respectively.
In his vote of thanks on behalf of the awardees, Mr Ezekiel Busuyi Fasunan, who received an award for 35 years of service to the Company, thanked the Management of University Press Plc for making the day a joyful and memorable one for all awardees. He prayed that God will continue to bless the Company and take it to greater heights.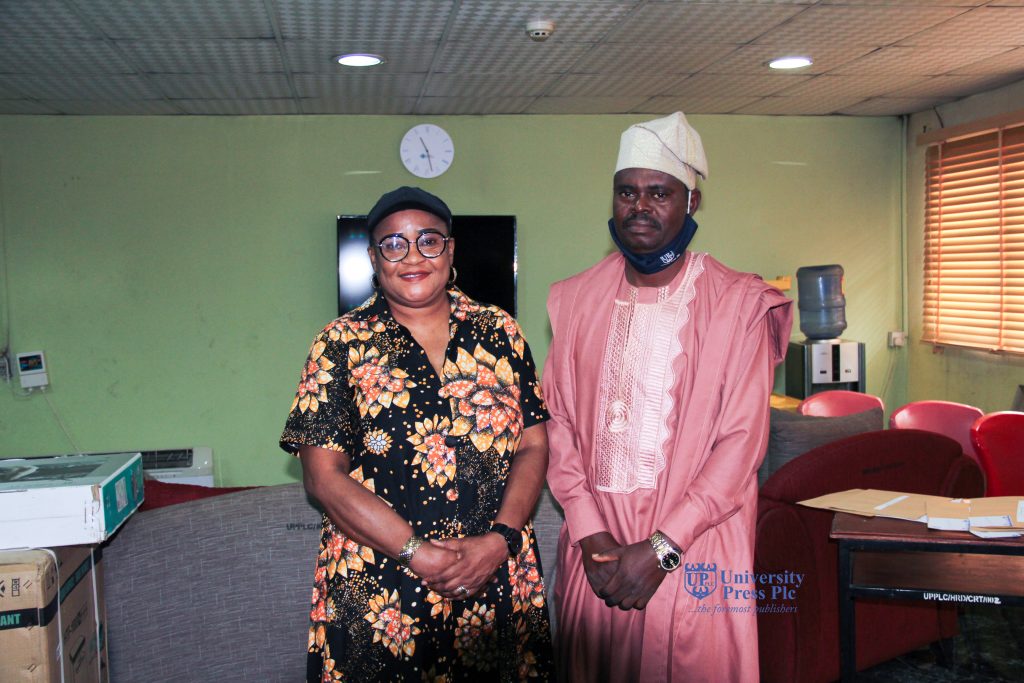 Also, some of the awardees shared briefly some motivating factors that made them stay so long with the Company while also sharing some words of advice to other members of staff and aspiring ones.
According to Mr Ezekiel Busuyi Fasunan, Senior Machine Operator, he has stayed for 35 years in the Company because he enjoys his job and likes the kind of motivation the management has been giving to staff. He advised other staff to work hard, as hard work is always recognized and rewarded in the organization, citing the fact that he has also received the Best Staff Award during his 35-year stay.
Mrs Mercy Oluwatosin Idowu, Publicity Supervisor, who received an award for 15 years of service, stated that what kept her going is the leadership style of the organisation; they encourage staff to showcase their potential and give room for self-development. She also mentioned that there is effective team work amongst staff and management and the friendly camaraderie they share, such that staff members can always walk up to the management to discuss issues without fear as they are always ready listen. Mrs Tosin encouraged other staff members to always work together as a team towards the development of the Company.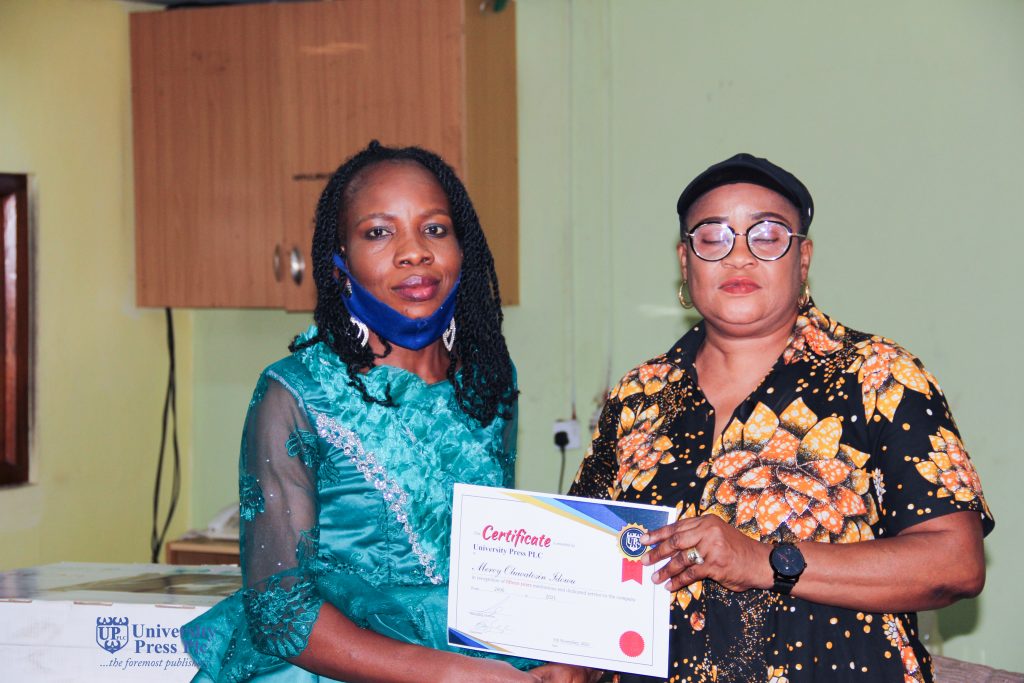 Also, Mr Olajide Timothy Jegede, Head (HRD) and Personal Assistant to the MD who received an award for dedicating 25 years of service to the Company, mentioned some of the factors that have been his source of motivation which include job satisfaction, structured organisation, opportunities for growth and the zeal to contribute to the growth of the organisation.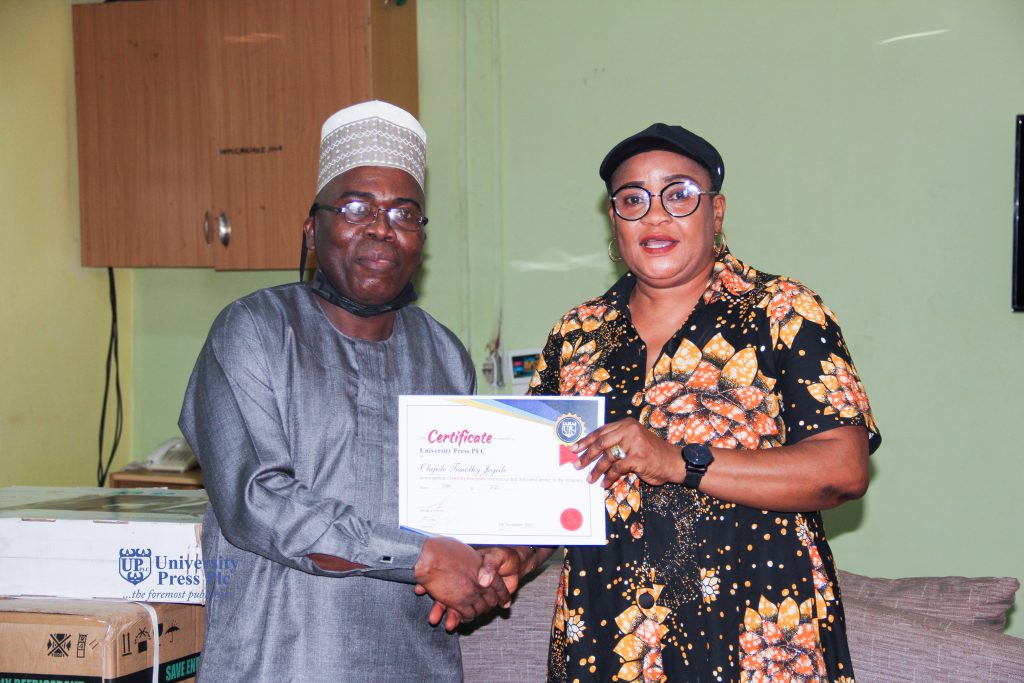 He noted that in the course of his 25 years of stay, he has had the opportunity to serve in various departments, performing different functions and that this encourages career growth as long as a staff is dedicated.
He stated that, having been in existence for 7 decades, the Company has come this far because of the dedication of staff towards its growth and so he is passionate about contributing his quota to the development of the Company for as long as he stays with the Company, so that when he leaves, others will continue from where he stopped.
Mr Jegede advised all members of staff to take their jobs seriously, be loyal and committed. He admonished them not to consider only the monetary gains but be dedicated and loyal in executing their duties so that when they finally leave, they will be remembered for their relevant contributions.
Finally, Mr Olatunde Olabamiji Adeosun, who also received an award for 10 years of service, said one of his motivating factors has been his admiration for the personality of the Managing Director, Mr Samuel Kolawole. According to him, prior to joining the Company, he had heard a lot about the MD which motivated him to join and that he has not been disappointed with his leadership style ever since he joined the organisation. Also, he said other factors are the love for his job and the strong belief that he will meet his expectations in the organisation.
According to him, University Press Plc gives room for personal development and if you are committed, you will be rewarded for your loyalty.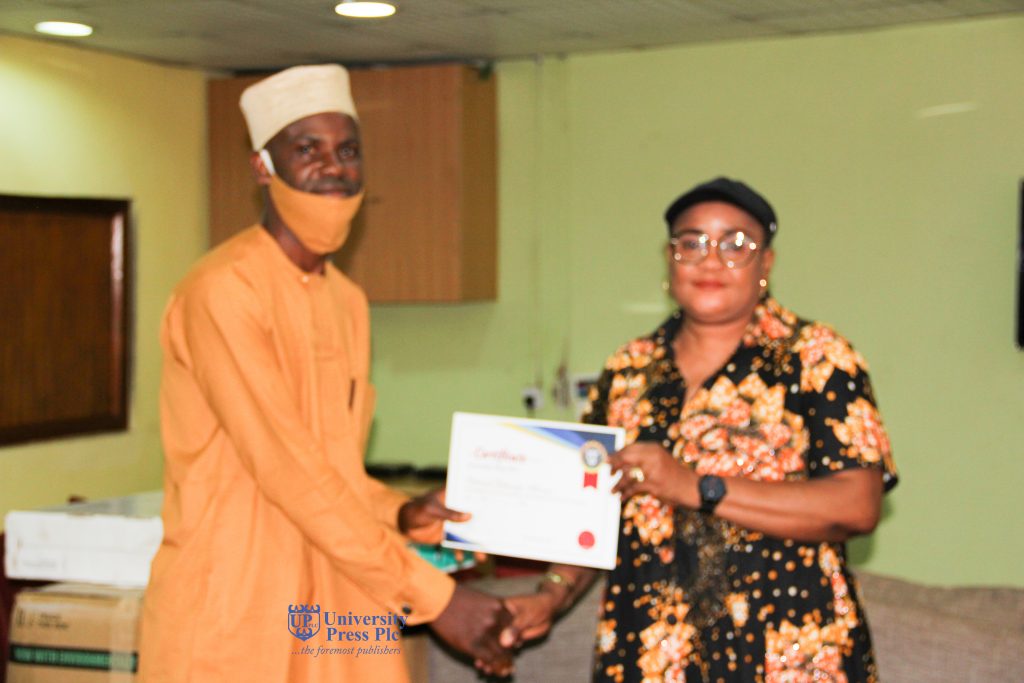 He urged other members of staff to remain committed to their duties, be loyal and not relent in developing themselves. For those who are aspiring to work with the Company, he encouraged them to try hard as he believes they will not be disappointed when they are eventually offered employment, and if they are hardworking, then the sky will be their starting point.
One thing we can deduce from the above statements by the awardees is that University Press Plc represents the ideals that make up for a suitable work environment for those who are hardworking and committed to their jobs as their efforts and dedication are always recognized, appreciated and rewarded.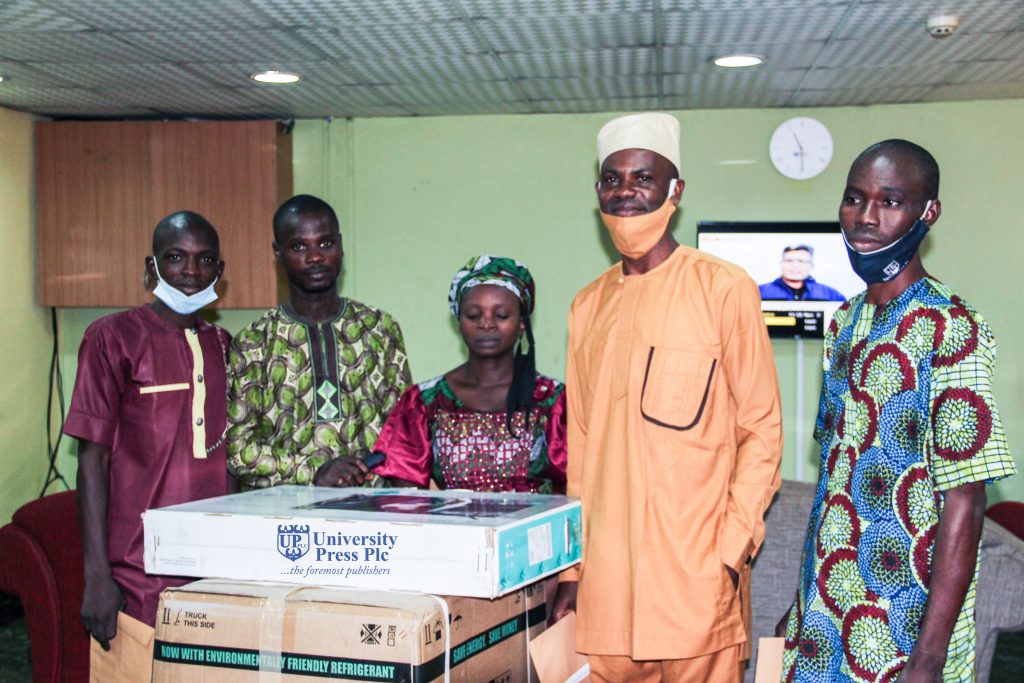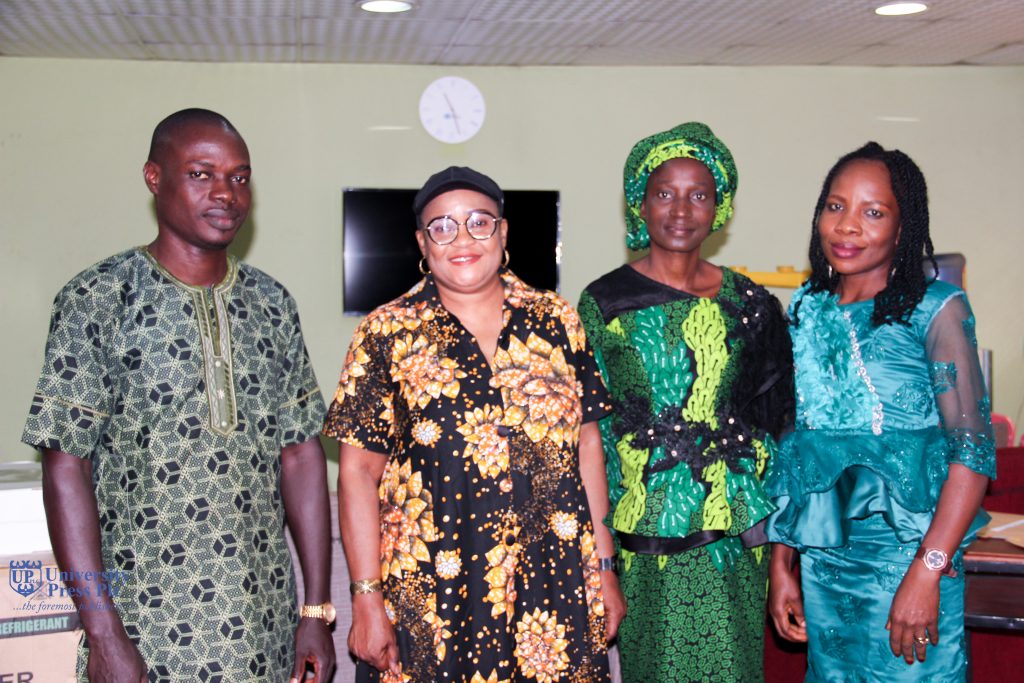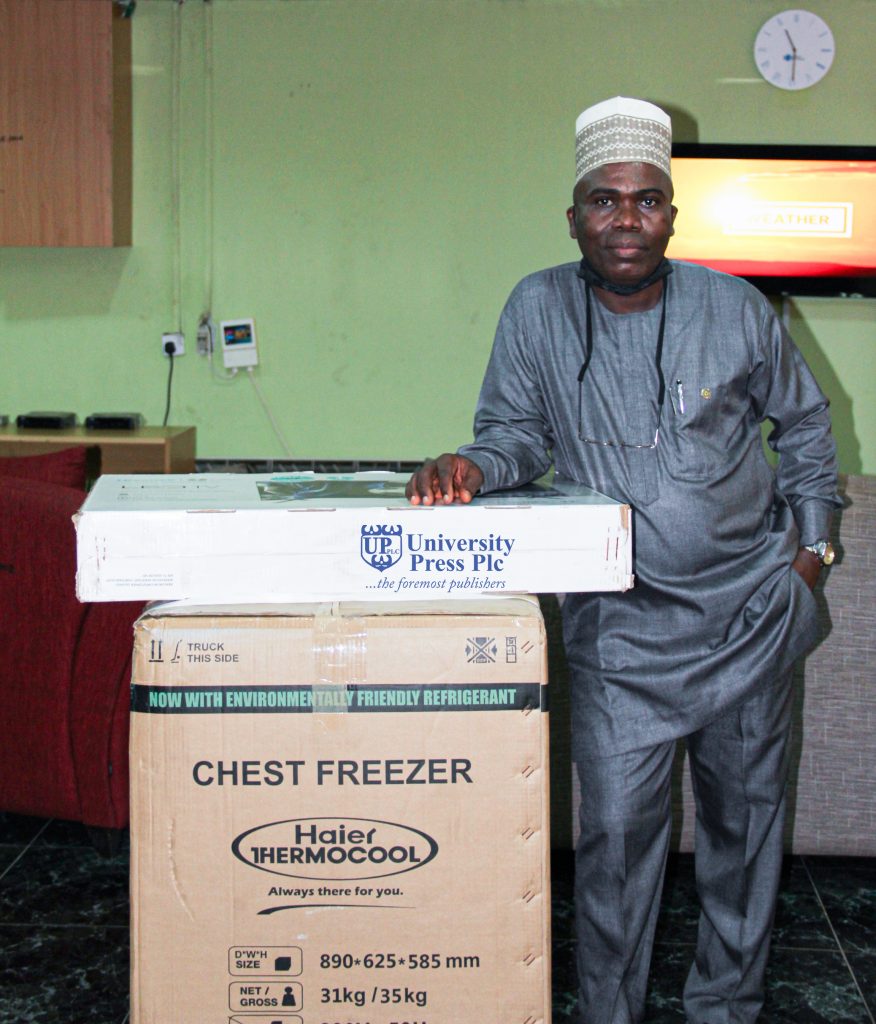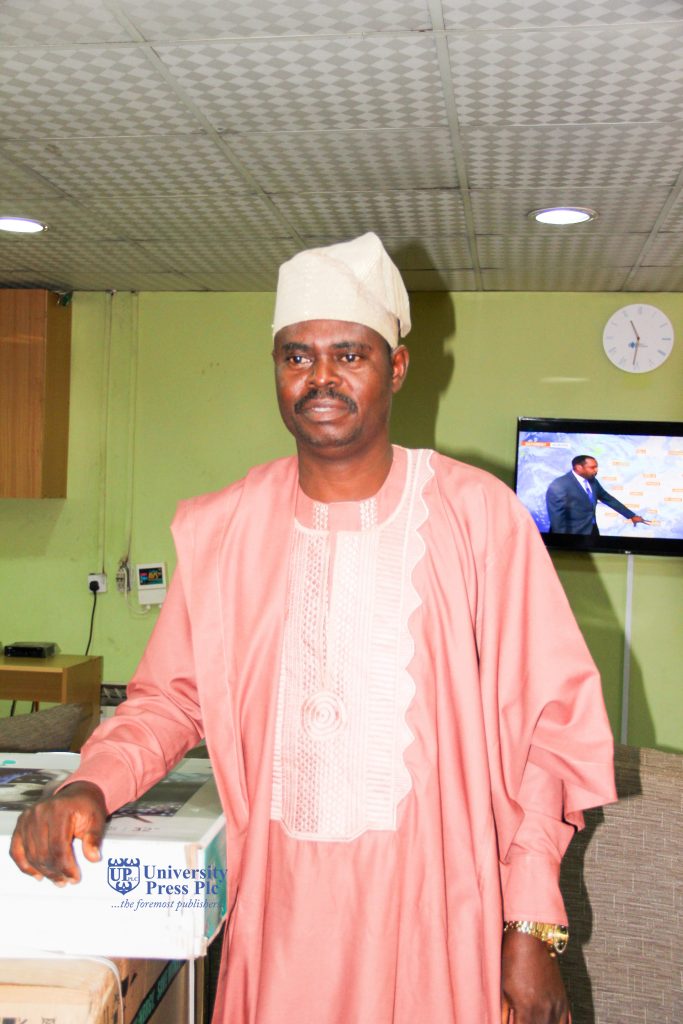 University Press PLC (UPPLC) was founded in 1949 under the name of Oxford University Press Nigeria, and has grown to become one of the oldest, most experienced and the Nation's Foremost Publishers of materials for educational and general reading.
By Janice Johnson Pemida.