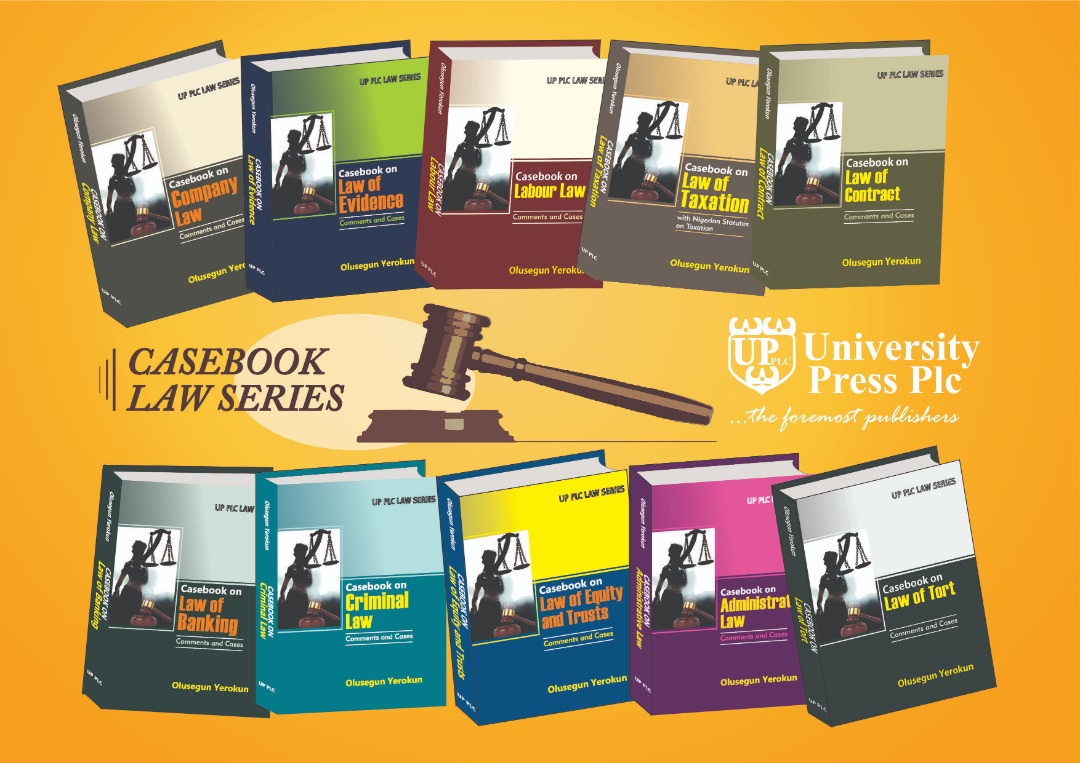 INTRODUCING THE UPPLC CASEBOOK LAW SERIES!!!
As a law student or practitioner, how do you feel having to go out often in search of law reports and cases to assist your studies or law practice? Not so pleasant I guess? So, how about simply purchasing a book in which you can have access to several cases, reports and comments in whatever field of law you are studying or practising? Sounds great, doesn't it?
Well, University Press Plc has got some good news for you. The Company has recorded a major breakthrough for Nigerian law students and practitioners through the publication of the UP Plc Casebook Law Series. We call this a breakthrough because, despite the fact that the casebook method has been the primary method of teaching and learning law in the United States and some other countries for several years, this has not been the case in Nigeria as lecturers have continued to deliver lectures with piled up cases for students who are expected to learn them by rote.
However, the UP Plc Casebook Law Series is a set of high quality and pedagogically rich law books which consist of a compilation of some of the most illustrative and factual past legal cases, pronouncements and judicial decisions in Nigeria, covering almost every discipline in law. With the publication of the Casebook Law Series, students will be able to analyze original texts of judicial decisions on their own and in class discussions. Thus, it comes in handy and will serve as a portable library for students to refer to judicial cases and decisions anywhere and at any time.
The UP Plc Casebook Law Series are designed to be complementary and to support learning and demonstrate mastery of the principles and applications of law, appropriate for whatever mode of study a person is engaged in; full time or part time. The cases in the series are judgements mainly from the Court of Appeal and the Supreme Court which are relevant in different courses illustrating the principles of law. Some of the casebooks come with appendices on various Nigerian Statutes for easy reference.
Thus, students can use them as a companion to their main textbooks. This means, by reading the issues, facts and decisions, students will be able to connect and reconcile other cases and thus distinguish the ratio and obiter dictum.
This ambitious project is to produce relevant casebooks in nearly all the fields of law in the Faculties of Law as approved by the supervising authorities, the National Universities Commission (NUC) and the Council of Legal Education (CLE). The accurate rendition and delineation of the relevant data of cases and index entries are particularly helpful and will assist students, researchers and legal practitioners in the learning and practice of law in Nigeria.
For law students, it is expedient for them to have the books as they are particularly suited for the multivariate learning schedules of students since they are able to tackle the individual cases at their convenience.
The casebook will also assist legal practitioners in the prosecution of cases in the court of law. The numerous extracts from judgements of erudite judges such as Lord Denning, Mohammed Bello, Mohammed Lawal Uwais, Anthony Aniagolu, Kayode Eso, Niki Tobi, Chukwudifu Oputa, George Oguntade will continue to provide a clear exposition of the principles of law.
Some of the areas of law covered in this Casebook Series include Law of Contract, Law of Tort, Law of Evidence, Labour Law, Equity and Trusts Law, Company Law, Land Law, Constitutional Law, Commercial Law, Criminal Law, Law of Banking, Law of Taxation and Administrative Law. Others such as Insurance Law, Intellectual Property Law, Maritime and Admiralty Law and Oil and Gas Law will be published soon.
Also, due to the fact that law is never at a standstill and is constantly evolving, the Company intends to keep revising the contents of these books by adding new materials often so as to keep them up to date.
Kindly scroll down to browse through and purchase copies of the UP Plc Casebook Law Series.
https://www.konga.com/product/casebook-on-land-law-5146384
https://www.konga.com/product/casebook-on-constitutional-law-5146382
https://www.konga.com/product/casebook-on-law-of-banking-5614809
https://www.konga.com/product/casebook-on-company-law-5614808
https://www.konga.com/product/casebook-on-law-of-evidence-5146383
By Janice Pemida.